Improve Design Reuse - Hierarchical Platforms Based Design
R&D managers are under constant pressure to optimize return on R&D investments. One way to provide more results for less is through efficient design reuse. Design costs are a large part of overall costs and design reuse directly reduces investments needed to develop new products.
Platforms-based Design (PBD) has been shown to improve efficiency across a variety of industries – from automotive to computer to electronics. Automotive PBD reduces costs by sharing elements across products (such a midsize car platform). However, automotive PBD normally requires large product volumes to justify additional initial costs. Standardized interfaces such as PCI-Express drive design reuse in hi-tech industry. However, standardized interfaces require dominant players and industry standards. Finally, Moore's law in integrated circuits (ICs) has been founded on design reuse utilizing libraries of completed designs. However, IC design libraries involve only a few technologies.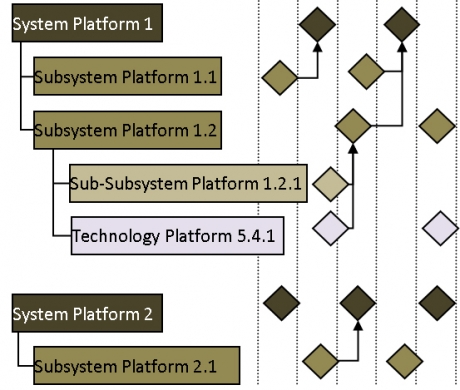 InspiRD has developed a new Hierarchical Platforms-Based Design (HPBD) approach that brings the library of reusable designs approach to all industries. HPBD will generate Moore's law-like increase in capability and reduction in cost to physical systems involving multiple technologies. HPBD builds a library of reusable designs without incurring additional costs. HPBD also does not require large volumes or standardized interfaces.
Specifically, HPBD provides these capabilities:
Hierarchical Taxonomy: This taxonomy provides a structured foundation for the design library. R&D information is automatically configured and incorporated into the design library.
Interaction Capture: A key impediment to design reuse in physical systems is complex interactions between system elements. HPBD captures these interactions and makes them easily accessible. These captured interactions provide a common language of communication across R&D disciplines and enhance collaboration.
Integration into the R&D workflow: HPBD scales with design maturity and captures information at every stage of development. It improves design efficiency without requiring major cultural or process changes.
HPBD will generate cost reductions in complex physical systems similar to those realized in electronic systems while enabling increases in complexity. HPBD provides an effective means for increasing technology insertion or driving design reuse. Importantly, HPBD also enables rapid response to changing customer needs. The structured library allows executives to quickly reconfigure projects to satisfy changing markets.
Click here for more detailed information about InspiRD's Hierarchical Platforms-Based Design.